"Depachika (デパ地下)" literally means "a department store's basement floor" in Japanese. Packed with a wide range of food products such as delicate confectionery, Japanese tea, prepared food, popular treats, it can be characterized as "food heaven." Keio Department Store's Middle Basement Food Floor is also filled with desserts, Japanese confectionery, liquor which are recommendable to take back home as souvenir!
\"Tap" or "Click" numbers to see more info!/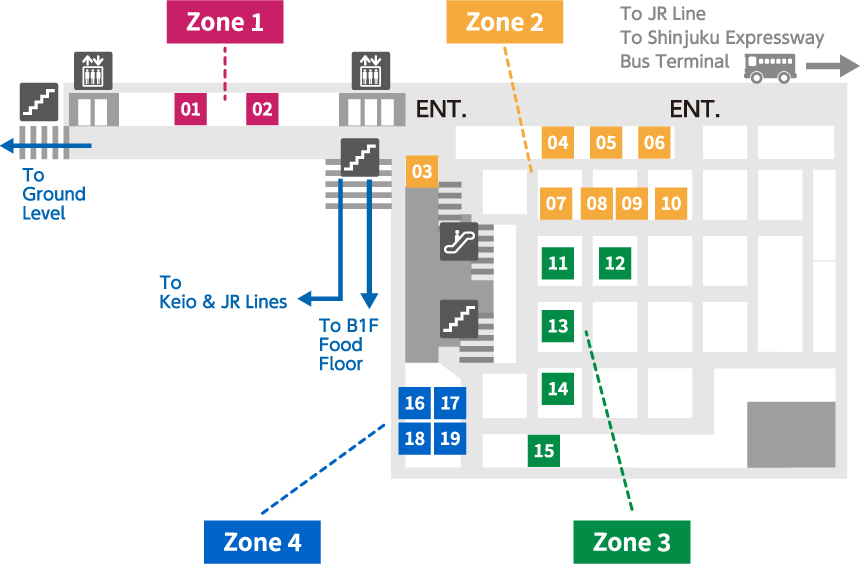 [Zone 1] Tea/Dried Seaweed
LUPICIA
[Japanese tea/black tea]

Momo Vert Limited Design Tin 50g
1,280 yen

Fine Japanese sencha scented with sweet, juicy white peaches.

YAMAMOTO NORITEN
[dried seaweeda]

Tokyo Premium Otsumami Nori (2 tins set)
1,296 yen

Flavorful treat with wasabi & sesame, and mentaiko (cod roe) powder sandwiched between high-quality dried seaweed made in Ariake Sea. Enjoy with your family and friends as snacks and nibbles.
[Zone 2] Tea/Confectionery
IPPODO TEA
[Japanese tea]

Drip Tea Bag Sencha (6 bags)
1,296 yen

Drip tea bag with pleasant, mellow fragrance and refreshing bitterness.

Toraya
[yokan]

Petite Yokan Box of 5 Bars
1,620 yen

Recommended for those who want to try Japanese traditional yokan (thick sweet bean jelly). Taste a little bit of 5 different flavors: Yoru no Ume (whole azuki beans), Omokage (brown sugar), Shimmidori (matcha), Hachimitsu (honey), and Kocha (black tea). Small, palm-size yet you can still enjoy the authentic flavors.
Ryoguchiya Korekiyo
[Japanese confectionery]

Ninin Shizuka
2,052 yen

Paired red and white Japanese dried confection made from Wasanbon sugar (fine-grained Japanese sugar). The package designed with traditional Japanese painting is recommendable as a souvenir from Japan.

GATEAU FESTA HARADA
[rusks]

GOUTER de ROI (R)
692 yen

Gateau rusks carefully prepared with fine butter and so forth on fragrant French bread. Crispy texture and rich aroma of butter will give you a moment of bliss.

Bunmeido Tokyo
[castella (Japanese spongecake)]

Bunmeido's Castella 0.5A-size (5 pieces)
675 yen

With confectioner's techniques, Bunmeido's castella is baked into an even more moist texture with light sweetness.

BANKAKU
[shrimp crackers]

Saku Saku Nikki (shrimp flavor)
486 yen

Bite-size shrimp crackers with crispy texture and light aftertaste. Small, cute fried crackers full of shrimp flavor.

Tsuruya Hachiman
[Japanese Confectionery]

Maizuru (5 pieces)
1,296 yen

Dorayaki (Japanese pancake) with carefully cooked Japanese Dainagon red beans wrapped inside honey-flavored savory pancakes.

Ogura Sansou
[rice crackers]

Ogurayama Shunju
1,080 yen

Enjoy the traditional and the beauty of the four seasons of Japan expressed in the eight flavors of rice crackers. Ogura Sansou's most popular item.
[Zone 3] Confectionery
YOKU MOKU
[cookies]

Cigare (20 pieces)
1,620 yen

Crispy, rolled buttery cookies with melt-in-your-mouth texture.

Izumiya
[cookies]

Wave Art Cookie Tin
1,404 yen

Old-fashioned, nostalgic cookies packed inside a cookie tin with Katsushika Hokusai's "Thirty-six Views of Mount Fuji: The Great Wave off Kanagawa", a representative Ukiyoe art.
ISHIYA G
[langue de chat]

Saqu LANGUE DE CHAT ASSORT (18 pieces)
2,160 yen

An assortment of 6 different langue de chat cookies "Saqu LANGUE DE CHAT ASSORT", which is born from one of Japan's popular souvenirs "Shiroi Koibito."

SHISEIDO PARLOUR
[baked sweets/chocolates]

Cheesecake (3 pieces)
1,080 yen

Denmark cream cheese wrapped and baked inside biscuit made from Japanese flour (Hokkaido flour). Rich, luxurious cheese cake.

ANTÉNOR
[cakes/baked sweets]

①Shortcake
②Mont Blan
616 yen each

Japanese shortcake with smooth cream blended with Hokkaido whipped cream and strawberries sandwiched between moist sponge cake, and Mont Blanc cake with crispy feuillantine and chestnut cream wrapped inside fragrant chestnut paste blended.
[Zone 4] Liquor Corner
[Ozawa Brewery]

Tokyo Kurabito
1,870 yen

Junmai-Ginjyoshu (Japanese sake with rice polishing ratio under 60%) brewed by Ozawa Brewery, a sake brewery located in Ome City, Tokyo. A traditional sake brewery method called "kimoto-zukuri" (sake-making by hand) is used. "Tokyo Kurabito" is one of the most well-balanced and easy-drinking sake of Ozaka Brewery's Sawanoi sake series.

[Asahi-Shuzo]

Kubota Junmai Daiginjo
1,878 yen

A "casual yet high quality sake" brewed for the next generation that will be enjoying sake in the future. Refined aroma and sweetness of the rice smoothly flows through, followed by acidity for a sharp aftertaste.
[Hakkaisan]

Hakkaisan Junmai Daiginjo
2,382 yen

While maintaining the gentle aroma and clear, crisp flavor typical of Hakkaisan, Hakkaisan Junmai Daiginjo has been created into an elegant semi-fancy sake that will enhance the flavor of cuisine.

[Suntory]

Ao
5,500 yen

Sweet, refined aroma and mellow yet thick flavor followed by a pleasant smoky aftertaste. Enjoy the complex and changing aroma created by blending the world's five prestigious whiskey.