Popular Brands
Food
Fruits
Grocery
Local Food
[B1F]

Kinokuniya
(Japanese Seasonings)

[B1F]

Kinokuniya
(Preserved Food)

[B1F]

Tsukiji Sadamatsu

[MBF]

YAMAMOTO-NORITEN

[MBF]

Ginza-Sembikiya

[6F]

KUZE FUKU

[8F]

Hokkaido Foodist
[MBF]

IPPODO TEA

[MBF]

ITOEN

[MBF]

LUPICIA

[MBF]

KEY COFFEE

[MBF]

Hakkaisan
(Liquor Corner)

[MBF]

TOKYO-KURABITO
(Liquor Corner)
[MBF]

ANTÉNOR

[MBF]

BANKAKU

[MBF]

Bunmeido Tokyo

[MBF]

GATEAU FESTA
HARADA

[MBF]

ISHIYA G

[MBF]

Ogurasansou

[MBF]

Toraya

[MBF]

YOKU MOKU
Cosmetics
[1F/2F]

Attenir

[1F/2F]

clé de peau BEAUTÉ

[1F/2F]

DECORTÉ

[1F/2F]

FANCL

[1F/2F]

HABA

[1F/2F]

IPSA

[1F/2F]

POLA

[1F/2F]

SHISEIDO

[1F/2F]

SK-II

[2F]

AINZ & TULPE

[4F]

DHC
Fashion
[1F]

CA4LA

[1F]

ABC-MART

[1F]

ECCO

[1F]

MODE ET JACOMO

[1F]

tsumori chisato WALK

[4F]

fitfit
Accessories
Watches
Glasses
[2F]

Jouete

[2F]

SWAROVSKI

[2F]

TAKE-UP

[5F]

KANEKO OPTICAL

[6F]

Jewelry

[6F]

CASIO

[6F]

CITIZEN

[6F]

SEIKO
[2F]

STRAWBERRY
FIELDS

[3F]

M's GRACY

[3F]

PINK HOUSE

[3F]

45R

[3F]

Triumph

[3F]

Wacoal

[4F]

B-THREE
[5F]

Aquascutum

[5F]

COMME CA
STAGE MEN

[5F]

NEWYORKER

[5F]

PAPAS

[5F]

TAKEO KIKUCHI

[5F]

THE SCOTCH HOUSE
[7F]

blossom 39

[7F]

BREEZE

[7F]

familiar

[7F]

MIKI HOUSE

[7F]

MIKI HOUSE
HOT BISCUITS

[7F]

KP

[7F]

petit main

[7F]

Randoseru
(Japanese School Bags)
Sports
[5F]

A&F COUNTRY

[5F]

Colantotte

[5F]

Columbia

[5F]

CW-X

[5F]

M・U SPORTS

[5F]

MIZUNO

[5F]

Munsingwear
Japanese Traditional
[6F]

Japanese Swords

[6F]

KIYA

[6F]

KYUKYODO

[6F]

Tableware Corner

[6F]

Tea Ceremony
Goods
Others
[4F]

Luggage/Travel Bags

[4F]

Tsue-ya

[5F]

itoya

[6F]

Afternoon Tea LIVING

[7F]

Popondetta
(Train Goods)

[7F]

Sanrio

[7F]

Toy Plaza
*Photos are for illustrative purpose only.

Events
Weekly events are held at 7F Event Space. Event schedules are subject to change under various circumstances.
NOV
BAUMKUCHEN EXPO
NOV 2 (THU) to NOV 7 (TUE)
10AM to 8PM

*Last day NOV 7 (TUE) closes at 5PM.

Wacoal Big Bargain
NOV 9 (THU) to NOV 15 (WED)
10AM to 8PM

*Last day NOV 15 (WED) closes at 4PM.

PETER RABBIT Little Book Park
NOV 17 (FRI) to NOV 29 (WED)
10AM to 8PM

*Last day NOV 29 (WED) closes at 4PM.

Men's Fashion Bargain
NOV 17 (FRI) to NOV 22 (WED)
10AM to 8PM

*Last day NOV 22 (WED) closes at 4PM.

Ladies' Winter Fashion Bargain
NOV 23 (THU) to NOV 29 (WED)
10AM to 8PM

*Last day NOV 29 (WED) closes at 4PM.

About Us
An easily accessible department store located right outside West Exit of Shinjuku Station in Tokyo, Japan. Since its opening in 1964, Keio Department Store has been loved by local Tokyoite.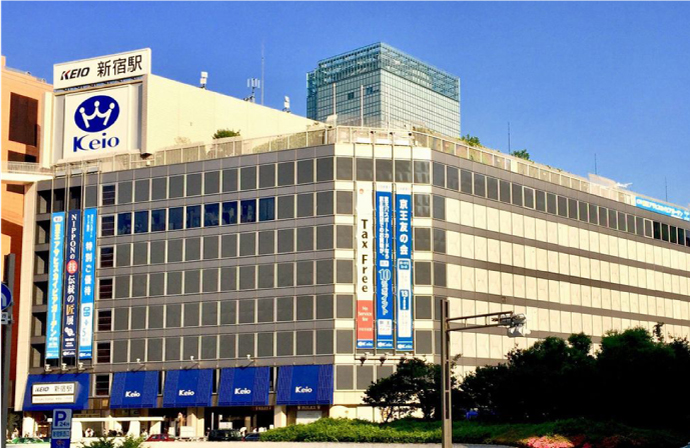 Address: 1-1-4 Nishi-Shinjuku, Shinjuku-ku, Tokyo,
160-8321 JAPAN
WHAT MAKES IT SPECIAL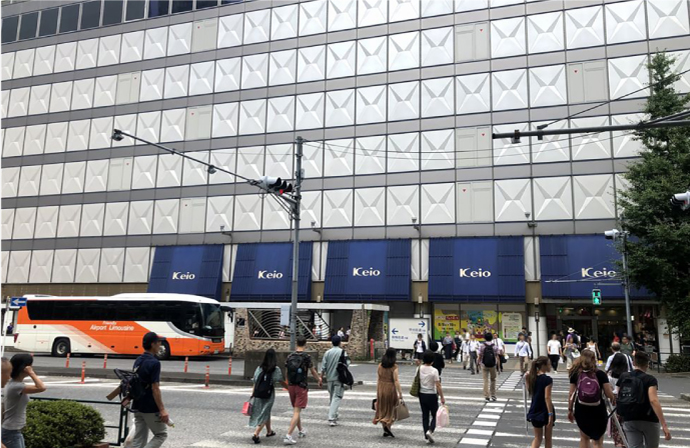 Been loved by Tokyoite for over 50 years, Keio Department Store is a very friendly, easy going type of department store. Unlike other department store filled with high-end expensive brands, Keio mainly focuses on Japanese domestic brands with mildly mid-range price. Keio also stands out from other department store for its unique range of products, not only for young generation but also for middle age and elderly customers.
ONE STOP SOUVENIR SHOPPING!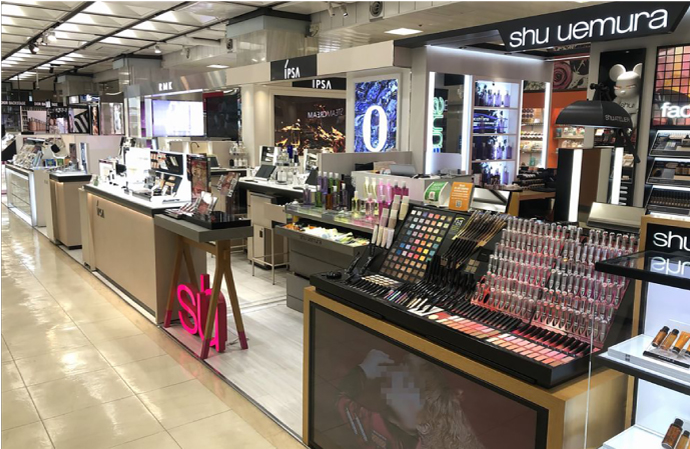 You will meet plenty of souvenir choices such as Japanese whisky, Mt. Fuji cups, Japanese stationery, Sashimi knives, crafts, Japanese-brand cosmetics and many more. Our friendly clerks will help you using a translation device for 74 different languages, so do not worry if you can't speak a single word in Japanese.
"DEPACHIKA"-JAPANESE GOURMET HEAVEN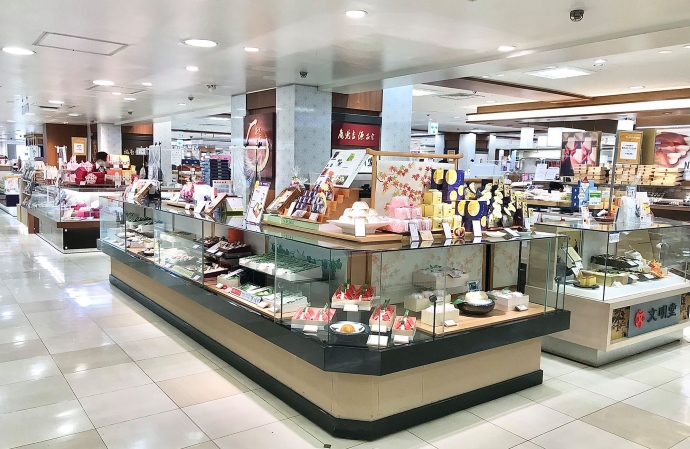 Two stories of food section of mouthwatering gourmet you've dreamt of. Japanese fresh fruits, sashimi, sushi, bento, Tempura, Tonkatsu, grilled eel, rice crackers, mochi (sticky rice dumplings), green tea, matcha, sake and whiskey from all over Japan gather here!
CULTURAL TREASURE OF JAPAN
If you are into Japanese traditional culture, head to 6th floor for traditional goods such as Japanese lacquer, potteries, chopsticks, kitchen knives, Japanese WASHI paper goods, Kimono accessories and so on. Also, enjoy art gallery, Japanese swords corner and tea ceremony goods corner, too.
BEER WITH NIGHT VIEW OF SKYSCRAPERS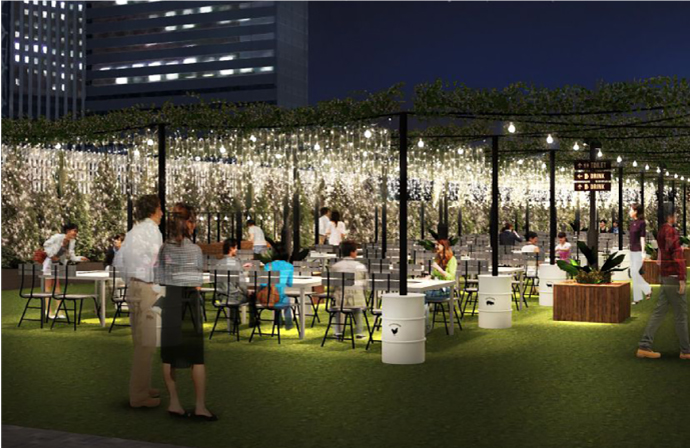 Drinking and dining at open-air rooftop in the middle of Tokyo with skyscrapers around you is definitely an experience to take on. Keio Department Store operates both "Keio Asahi Sky Beer Garden" and "BBQ Garden" limited to summer. If you feel like having a break from "Japanesy food", indulge yourself with plenty of beer, fries, and meaty dishes! Or, you can purchase fresh meat, seafood and veggies at the basement floor supermarket, and cook them by yourself at the BBQ garden, too.

Access
Right above West side of Shinjuku Station!
How to get to Shinjuku Sta.
Narita Airport→Shinjuku Sta.
①Narita Express Train: direct 90-min. ride
②Airport Limousine Bus: 120-min. ride
Haneda Airport→Shinjuku Sta.
①Tokyo Monorail (to Hamamatsu-Cho)
→Yamanote Line (to Shinjuku): 60-min. ride
②Airport Limousine Bus: 55-min. ride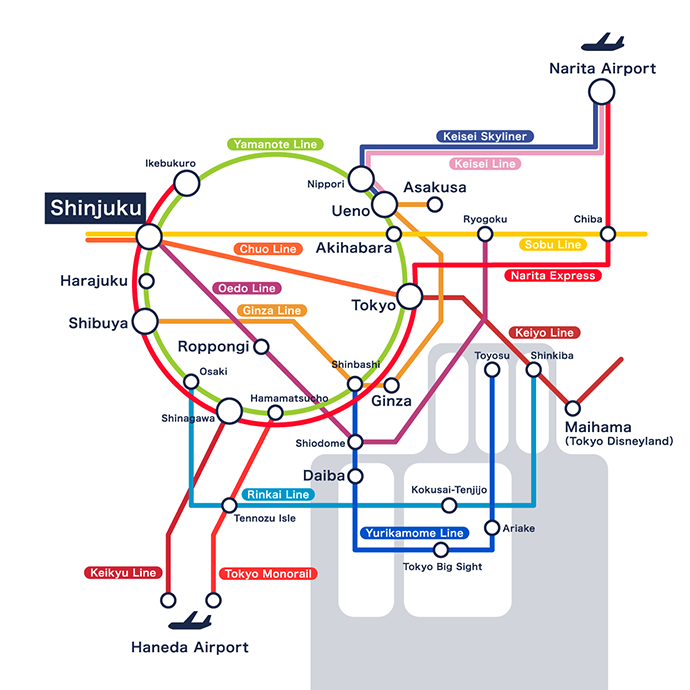 Service

Free Wi-Fi
SSID: Keio-Dept Wi-Fi
[How to Connect]
Select "Keio-Dept Wi-Fi" from Wi-Fi setting.
*In case Wi-Fi connection page does not appear, go back to home screen, open your internet browser, and take any action to get redirected to Wi-Fi connection page.
Select language.
Please read Terms & Conditions, and tick "I agree with the Terms & Conditions."
Click "Connect to the Internet.
*Available within the building except rooftop.
*Wi-Fi connection up to 4 hours. This Wi-Fi connection page will be redisplayed after 4 hours.

Foreign Currency Exchange Machine
Available at 2F Foreign Customer Counter. Exchanges up to 14 currencies.
AUD, CAD, EUR, GBP, HKD, IDR, KRW, MYR, PHP, RMB, SGD, THB, TWD, USD ⇒ JPY
*Coins are not accepted.

Foreign Language Assistant
English and Chinese speaking staffs are available at 2F Foreign Customer Counter.
Approx. 100 translation devices available within the store.

Cloak Room
If you have shopped at Keio Department Store Shinjuku, you can temporarily leave your purchased items at 2F Service Counter for free. Please show your receipts(s) of the day to counter staff.
*Please note we do not accept any valuables, gift certificates, fresh food and some particular items.
*Please pick up items on the day of your purchase and 30 minutes before closing time by yourself.

Hotel Delivery (Free)
For purchases made at Keio Department Store Shinjuku, free delivery can be arranged to designated hotels in Shinjuku area.
[Delivery Instructions]
Bring your items purchased at Keio to 2F Foreign Customer Counter before 5PM.
Show your passport and provide staff your hotel name and room number.
Receive delivery slip for picking up your delivered items at hotel.
*Items will be delivered to your hotel by 9PM on the same day.
*Personal effects, cash vouchers, valuables, perishable food, and items purchased at other stores cannot be delivered.
[Designated Hotels]
Keio Plaza Hotel Shinjuku
Century Southern Tower Hotel
Hilton Tokyo
Hotel Gracery Shinjuku
Hotel Sunroute Plaza Shinjuku
Hyatt Regency Tokyo
Park Hyatt Tokyo
Shinjuku Prince Hotel
Shinjuku Washington Hotel

Airport Delivery (Charged)
[Delivery To]
Narita International Airport
Haneda Airport (International flights only)
[Delivery Instructions]
Bring your items purchased at Keio to 2F Foreign Customer Counter before 5PM.
Pack your items in a box (charged) and fill in delivery slip.
You will be able to receive your items at the airport 2 days after applying for delivery service. Show your delivery slip at the designated pick-up counter.
*Name of airport, terminal number, boarding flight number/date/time, your name, and contact number will be required.
*Delivery charge depends on size and weight.
*Deliverable size: Total length of L+W+H within 160cm (5 feet 4 inches), and weight under 25kg (55 pounds).
*Cash vouchers, perishable food, or anything we declared unsuited for delivery cannot be delivered.

Inquiry
Individual Customers
E-mail:
inbound@keio-dept.co.jp
MON, TUE, THU, FRI, SAT: 10AM to 6PM
WED & SUN: Office closed.
*English and Chinese languages only.
Business Inquiries
We are sorry but we do not operate direct trading with overseas companies. Please approach Japanese trading companies instead.
Employment Inquiries
As we are a domestic company, we require business level of Japanese in both writing and speaking. If you are fluent in Japanese, please click the link below (job offer web page in Japanese) to see if any job offer is available.
https://www.keionet.com/corp/recruit/