Sports Goods Corner on the 5th Floor of Keio Department Store is filled with attractive brands! Some brands have carefully selected gears from all over the world while some originate in Japan. Find your best sports buddy with functions and designs that perfectly fit your activities!
GOLF
Go up to 5th Floor with escalator "B" and you will see the Sports Goods Corner right in front of you! The green carpet reminds you of a golf course, doesn't it?
It's so exciting to see all of these trendy golf outfits and gears that will make your golf rounds more enjoyable!

Look at all these golf clubs lined up on the shelves! With such a wide variety, you will find the perfect one!
SHOP MAP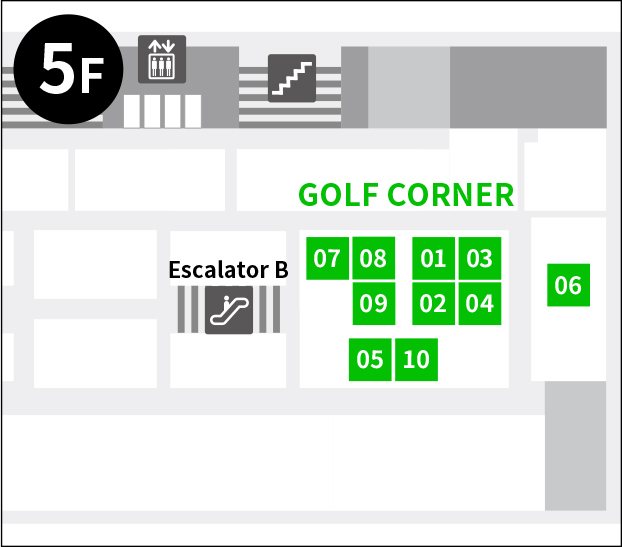 adabat

A golf brand based on the concept "golf wear for adults to play all day long," not only for the golf scene but also in town and on trips. The store offers elegant designs, trendy and functional wear, and goods.

CASTELBAJAC SPORTS

With clothing and goods designed with CASTELBAJAC's pop and graphical art, the brand offers a diverse scene centered on golf. Within its outfits that are not only fashionable but also functional and comfortable, it creates a fun atmosphere.
mila schön SPORTS

Stylish, colorful and luxury sportswear created with the sense of Milan, Italy. With the mind that golf is the core of lifestyle, the brand pursues colors, silhouette, and details for adults who enjoy their own originality.

M・U SPORTS

A Japanese-born brand filled with "Kawaii!" for female golfers. The brand offers stylish outfits that not only make you want to go for a round of golf but also out in the city.

Munsingwear

By constantly evolving, Munsingwear has established its brand credibility and eventually, its penguin logo has become synonymous with golf wear. Today, more than 60 years after the birth of the world's first golf wear, Munsingwear is moving on to its next stage.

GOLF PLAZA ACTIVE

GOLF PLAZA ACTIVE, offering a wide range of golf gear, has been reopened. Golf simulator has been installed in the golf club testing room, letting you test in Practice Mode, Round Mode, On Course Mode as well as measure ball trajectory. It lets you enjoy as if it is a real round of golf.

Other Golf Brands
OUTDOOR
Our Outdoor Corner is filled with items from all over the world. So exciting for both outdoor enthusiasts and those who are just starting out.
Outdoor outfits and gears aren't just for hiking and climbing mountains. These are also great for walking around in town and going to outdoor concerts.

You will find functional and comfortable products that will support your outdoor activities.
SHOP MAP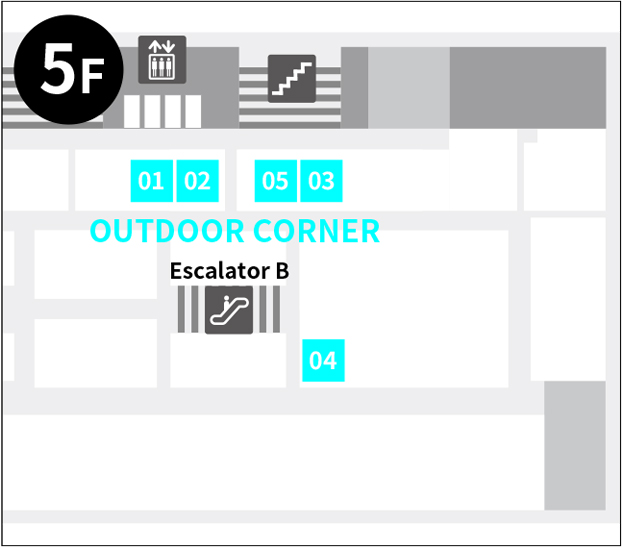 Foxfire

Foxfire is a brand that continues to create "authentic" outdoor clothing by incorporating the knowledge learned from nature by naturalists.

MERRELL

MERRELL, a long-established American outdoor gear brand that supports your feet during outdoor activities and leisure. The brand focuses on providing footwear that supports both activities in the great nature and urban life.
A&F COUNTRY

A&F imports and sells excellent brand products from all over the world. Distinct from conventional brands, A&F selects products not only from Japan but also outside of Japan. Under the concept of "Good products for a long time," it offers products that can be used in both town and outdoor.

Columbia

Columbia was founded in 1938 in Oregon, United States, where the natural environment is rich and outdoor activities are popular. The brand offers outfits equipped with functions and durability required for outdoor activities. A wide variety of products suitable for outdoor, town, business, travel, and many other situations.
SPORTS
Don't forget to check out products of popular sport brands born in Japan!
Supplements and support items will help you build a healthy life and body!

Finding a better fitting pair of shoes is essential when playing sports. Out sports shoes corner lets you try on and compare different sports of different brand all at once!
SHOP MAP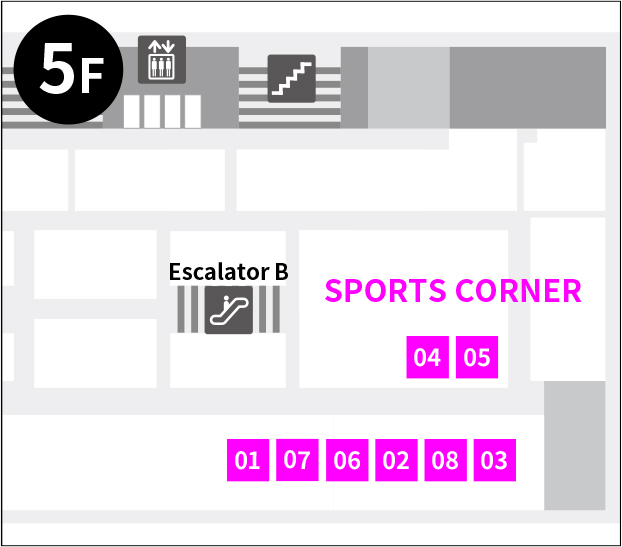 SPORTS SHOES

The store carries a wide range of shoes for various lifestyles, from running and fitness to walking shoes. Both men's and women's shoes are available.

MIZUNO

The directly-managed Sports Store of MIZUNO provides customers with active lifestyles by applying MIZUNO's sports technology. The shop provides services close to customers' health using "Motion DNA," which measures gait types by just walking 5 meters and suggests the most suitable shoes and insole processing.
DESCENTE

"le coq sportif" and "MOVE SPORT" are available at DESCENTE. "le coq sportif" is one of the most playful and stylish French sports brands. Providing sophisticated unique design and comfort, they support your own playful way of life in sports and daily lives. MOVE SPORT produces sport outfits with both precise details and technology. They will enhance your performance in daily life, allowing you to feel unrestricted by anything in your consciousness and body.

CW-X

CW-X applies its unique principles of sports taping to their wide line-up of sportswear, and supports your body during exercises. Simply "just wear" when playing sports for body conditioning.

Sports Support Corner

A wide range of products including recovery wear brand "VENEX", "phiten", "Colantotte", popular supplements and exercise goods are available. A shop that you can rely on for body and health.

Other Sports Brands